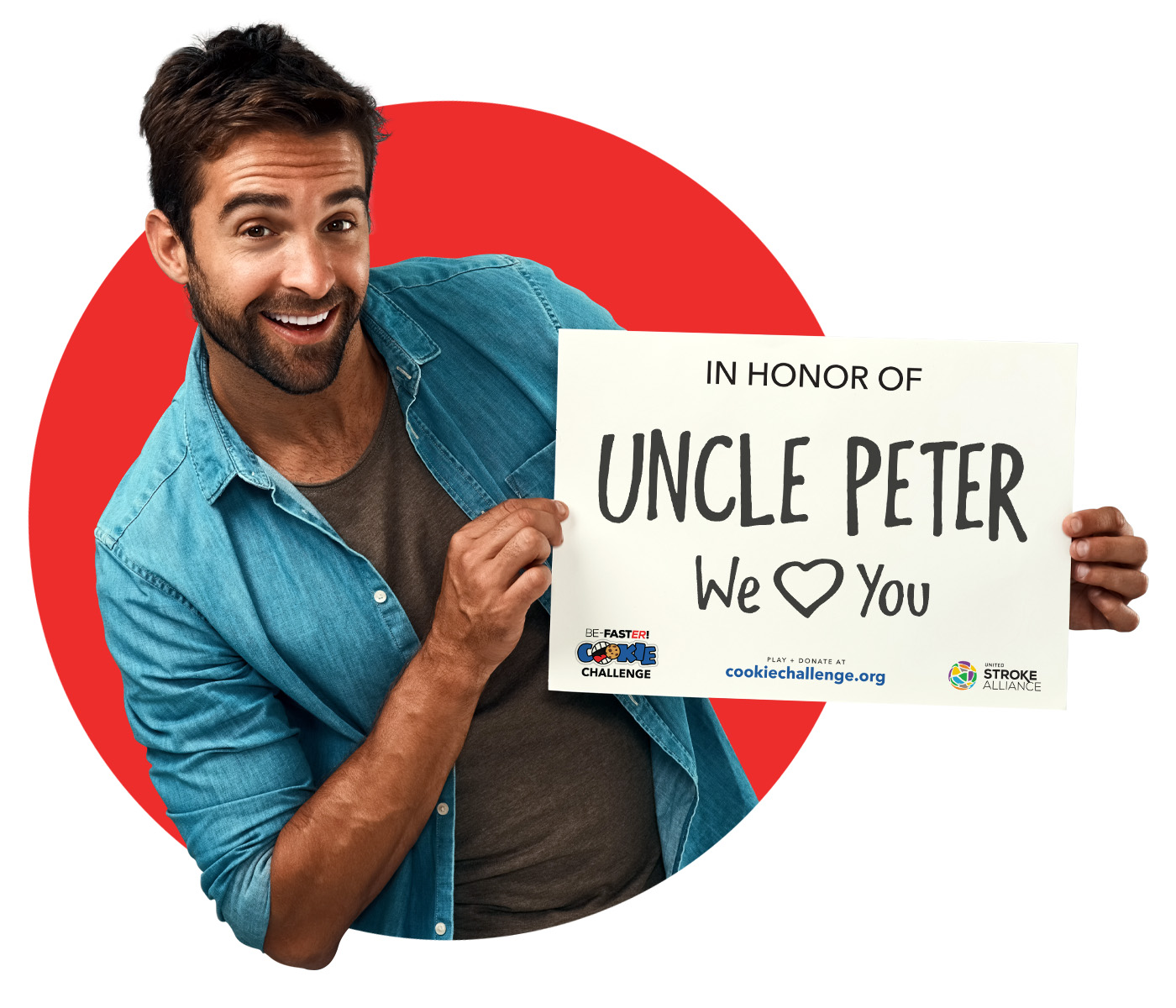 Know Someone Who Has Had a Stroke?
Download our "In Honor of" PDF and take the challenge to show your support.
Sudden blurry or loss of vision
Sudden numbness, one side drooping - can you smile?
Sudden weakness in arms - can you raise both?
Slurred or mumbling speech
Get to the ER by ambulance they know what to do FASTER!
What is Be-Faster all about?
Be-Faster is both an acronym and an action. As an acronym, it represents what you should look for if you think someone might be having a stroke (balance, eyes, face, arms, speech and time) as well as what your next steps should be (emergency response). As an action, it's how we all need to react if we think someone is exhibiting the signs of a stroke. Because the faster you respond could mean the difference between life, death or permanent physical and cognitive injuries.
80%
of strokes could be avoided
Every
4 minutes
someone dies from a stroke
There are life saving methods to minimize the effects of stroke IF you get to the ER in time!
Knowing the signs of stroke can save someone's life
Once a stroke begins to present itself, BE-FASTER and dial 911 immediately - the more time that is wasted, the more functioning a stroke survivor could lose as a result of the loss of 1,900,000 brain cells a minute. As described below, BE-FASTER represents the majority of the signs of stroke. In short, most people in America do not know the signs and do not respond quick enough to receive early treatment to minimize post stroke challenges.
Get Involved
Be a Stroke Champion
Are you active in your community or looking for a way to be more engaged? Then join our team as a champion for stroke awareness and help us go from 20% awareness to 80% awareness. We'll give you all the tools you need to make engaging and fun presentations to groups, churches and community leaders. Sign up today!
Partner with Us!
The United Stroke Alliance and the Be-Faster Cookie Challenge are looking for corporate sponsors who can support our cause and help us move from 20% awareness to 80% awareness. It's easy to get started and it's a fun way to support this important cause. Partner with us today!
Request Education Materials
We have put together a fun-filled FREE kit that makes it easy for educators to teach their students about stroke awareness, the signs, and what they need to do if someone is having a stroke. Your students will learn by having fun with engaging activities and challenges perfect for any age. Request a kit today!